Mammy Breda's Kitchen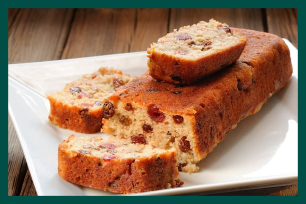 Traditional Irish Barmbrack
Barmbrack is traditionally served at Halloween in Ireland. The name barmbrack is linked to the froth or "barm" leftover after fermenting beer or ale, which is mixed with sultanas and spice to make a heavy, fruity bread.
Items, such as a ring to signify a wedding in the near future, would be wrapped up in paper and baked in the cake for one lucky person to find in their slice! More details at the end...
This recipe comes from an Embassy staff member. For their recipe, they like to use a lot of fruit so this recipe is a mix between a Barmbrack and a Tea Bread.
For best results, it is better to soak your fruit in the tea overnight. If short on time, soak it for at least five or six hours before using so the fruit is nice and plump.
This recipe makes two loaves and can easily be doubled.
Ingredients
2 ½ cups mixed fruit (golden raisins, sultanas, currants etc.)
1 ¼ cups strong cold tea
1 ½ cups + 2 tablespoons Caster Sugar
1 Large egg, lightly beaten
1 ¾ cups all-purpose flour (sifted)
2 teaspoons baking powder
Pinch of salt
2 teaspoons of mixed spice (Allspice)
A ring to place inside
Instructions
Heat oven to 325 degrees and line your cake tins with parchment paper.
Whisk together the flour, baking powder, salt and mixed spice.
Add the fruit, making sure that you get all the remaining tea in the bowl.
Add the beaten egg.
Spoon into the prepared tin and level off.
Bake in oven for 1 hour approximately, until risen and golden brown or until a toothpick comes out clean.
Let it cool in cake tin for 10 minutes and then lift out onto wire rack to cool.
Enjoy with a nice cup of Barry's tea (or Lyons tea if that's your preference...).Add some butter on top for added taste.
Fortune Telling?
While brack is eaten all year round, it is only at Halloween that symbolic additions are added to the mix, each with a supposed fortune-telling significance for the year ahead... So add in a ring, a pea, a piece of cloth, a matchstick, a bean, and a coin into the wet dough and stir...
The ring, you will be wed within the year.
The pea, you will not marry that year.
The matchstick, you will have an unhappy marriage or continually be in disputes.
The cloth, you will have bad luck or be poor.
The coin, you will enjoy good fortune or be rich.
The bean, you will have a future without money.
Be sure to wrap the items in parchment paper and don't forget to tell people that there are surprises in the cake...so you don't need the money for dentist bills, or a lawyer…
Enjoy, and good luck!