Having trouble viewing this message? View in web browser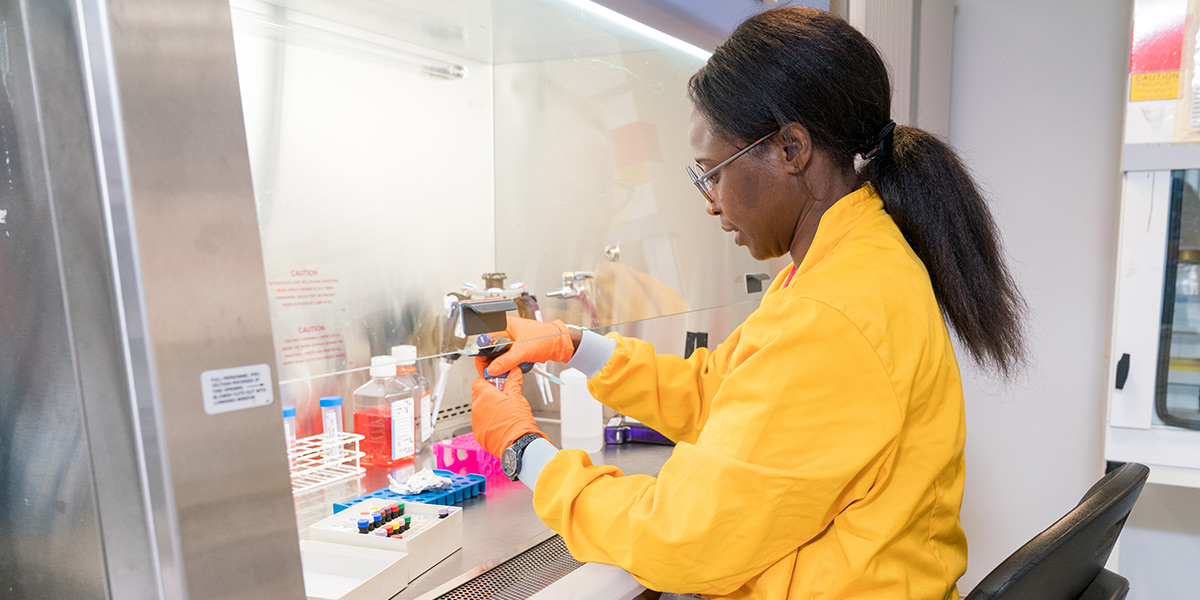 Welcome to the John van Geest Cancer Research Centre newsletter 
Welcome to the January edition of our newsletter. We hope you're having a great start to the new year.
In this edition we'll let you know about our past and upcoming events and projects, our new NTU Moves app, and what our staff have achieved in the world of cancer research. It's also World Cancer Day on Saturday 4 February – we'd love to hear from you if you've got any activities planned to recognise this day. Email us at giving@ntu.ac.uk to tell us more.
Once again, thank you for supporting the John van Geest Cancer Research Centre (JvGCRC) at Nottingham Trent University (NTU). Your much appreciated donation allows our team to work in innovative and collaborative ways to fight back against cancer and find treatments that will save lives.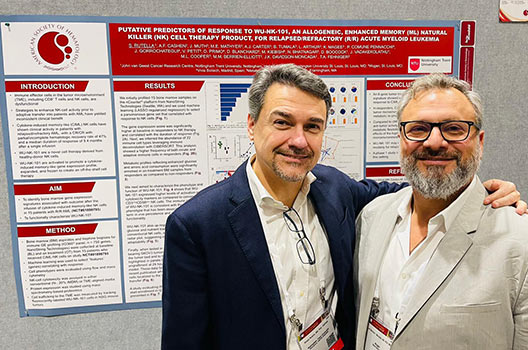 Sharing our research across the globe 
Professor Sergio Rutella (pictured above, left with his collaborator Dr Jan Davidson-Moncada from Wugen) and the JvGCRC team recently attended the American Society of Haematology's (ASH) 64th Annual Meeting in New Orleans, Louisiana. They presented data on WU-NK-101, a novel immunotherapy harnessing the power of "memory" natural killer (NK) cells to treat liquid and solid tumours. NK cells normally protect us from infections and have the ability to kill cancer cells.
However, they don't work properly in acute myelogenous leukaemia (AML). This work was carried out by Professor Sergio Rutella, Dr Jayakumar Vadakekolathu and Dr David Boocock at the JvGCRC, in close collaboration with Wugen, a clinical-stage biotechnology company developing cell therapies to treat a broad range of haematological and solid tumour malignancies. An early-phase clinical trial is due to commence in the USA this year.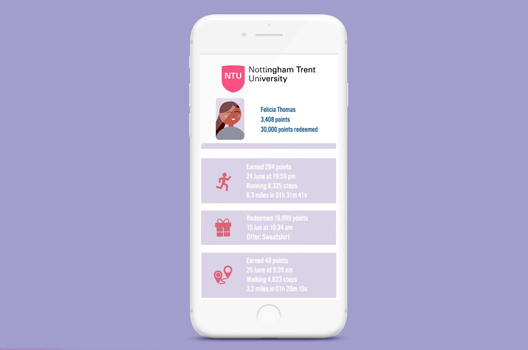 New NTU Moves app supporting cancer research

NTU Moves is an app that allows NTU staff and students to track their moves and claim rewards. Individuals can also participate in team challenges and add their friends and colleagues for extra motivation.
The more effort a user puts in, the more points accrued. These can be used to claim rewards or used to make a charitable donation to the JvGCRC. 
If you're an NTU staff member or student, why not kickstart your new year by getting active and making a difference to the future of cancer research? For every 5,000 points collected, you could donate £5 to the JvGCRC.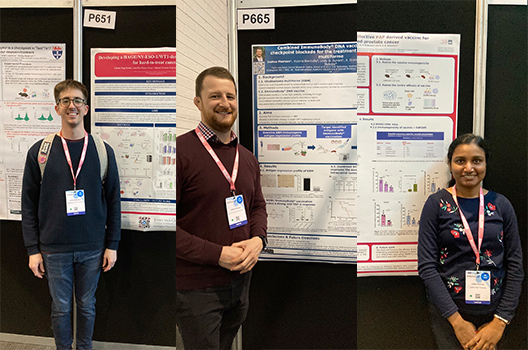 The UK's premier immunology event 
Dr Stéphanie McArdle along with colleague Joshua Pearson and PhD students Carles Puig Saenz and Jubini Thomas, attended the British Society for Immunology Congress 2022 last month. It was an extensive and inspiring four-day programme of cutting-edge research from leading UK and international researchers across the globe. All presented their posters on the development of vaccines for numerous types of cancers. Stephanie told us: "It was interesting to learn about what other scientists are doing and showcase what we're doing too. We were also able to talk to companies about new products / reagents, which could be useful for our research."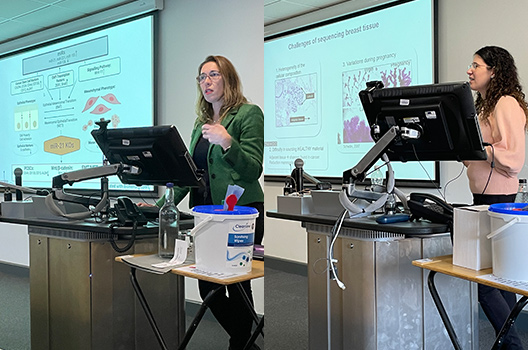 Guest speakers invited to collaborate on new projects  
In November, Dr Silvia Ottaviani hosted two exceptional cancer researchers from Imperial College London and the University of Westminster.
 
Dr Biancastella Cereser from Imperial College London delivered a talk about the genetics of the healthy breast, pregnancy, and breast cancer, while Dr Pinar Uysal-Onganer from the University of Westminster discussed the role of microRNAs in different types of cancers. Silvia will be collaborating with them both on exciting new projects this year.
Webinar on circulating microRNAs  
Join Dr Silvia Ottaviani at 2 pm on 22 February 2023 as she explains more about circulating microRNAs and their applications in cancer research.
Raising awareness of prostate cancer   
Did you know that prostate cancer is the most common cancer in men? Dr Stéphanie McArdle will deliver a talk at the King Power Stadium in Leicester on 29 March 2023. In collaboration with PROSTaid, the event will raise awareness of prostate cancer and the support available to men in the UK. Registrations will open next month –  keep an eye out on the PROSTaid website for more information.
Dr Cristina Montiel-Duarte  
Dr Cristina Montiel-Duarte is a Senior Lecturer and the MRes Cancer Biology course leader at NTU. She leads the Gene Expression Regulation group in the JvGCRC, where they focus on studying mechanisms at the molecular level that contribute to cancer progression, particularly in the context of leukaemia, prostate cancer and hepatocarcinoma.
Dr Montiel-Duarte obtained her PhD in Biochemistry in Spain, did postdoctoral research at a University Hospital, and came to the UK supported with a prestigious postdoctoral fellowship from the Fundación Ramón Areces. She is an Editorial Board member for Scientific Reports and has recently become an Associate Editor for Frontiers in Molecular Biosciences. 
Working at the JvGCRC gives researchers access to highly specialised equipment. They also benefit from receiving advice from fellow researchers who use the facilities on a regular basis. This ensures that research delivered at the Centre is of the highest quality and helps support world-leading progress in the fight against cancer.
Staff achievements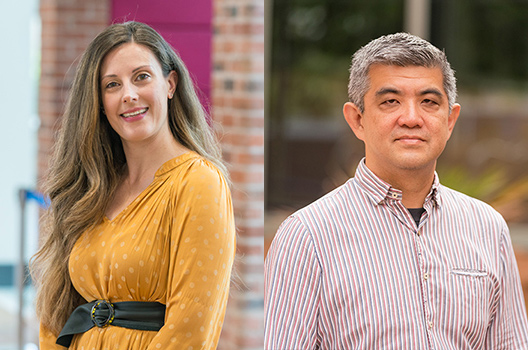 PhD studentships 
Congratulations to Dr Silvia Ottaviani and Dr Edwin Chen from the JvGCRC – their research projects were recently selected for NTU's fully-funded PhD Studentship Scheme 2023.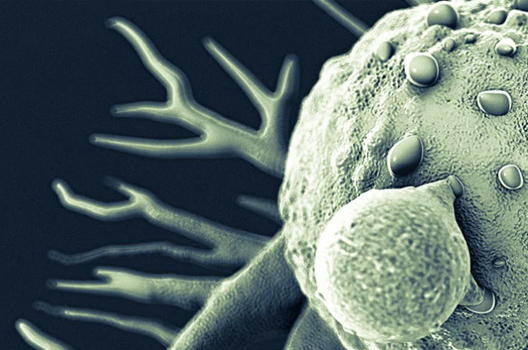 New editorial roles 
Dr Silvia Ottaviani was recently offered the position of Associate Editor of the prestigious cancer journal, Oncogene (Springer Nature) from January 2023. Dr Cristina Montiel Duarte was also appointed as the Associate Editor for Cellular Biochemistry (Frontiers in Molecular Biosciences) and the Review Editor for Cancer Cell Biology (Frontiers in Cell and Developmental Biology).
Huge congratulations to both Silvia and Cristina on their achievements! 
Re:search, re:vealed   
Nobody wakes up one day and decides to be a researcher. It starts with one person seeing a problem and having the courage to do something about it. 
To us, research is about so much more than lab coats, bar charts and research papers. It's about real lives and experiences. At NTU, our researchers come from a variety of backgrounds, and all have a powerful story to tell. In this series, we share their stories. 
We'd love to hear from you    
Do you have an inspiring or heartwarming story to share with us? Perhaps you raised some funds for a cause close to your heart? Would you like a closer look at our facilities? Or to see our scientists in action? Tell us what you'd like to hear about in our upcoming newsletters by emailing us at giving@ntu.ac.uk, and we'll be in touch with you to make it happen.