Click here if you are having trouble viewing this message.
IN THIS ISSUE
TAKE PART IN OUR FUTURE OF WORK SURVEY!
The purpose of this survey is to initially understand the business's experience with the shift to a remote workforce in a post-pandemic world.
NEWS FROM OUR MEMBERS
TELECOM DIGEST
FTTH Council Europe organised a workshop on FTTH & 5G convergence
On 31 March 2021, the FTTH Council Europe hosted an FTTH and 5G convergence webinar on its latest study on this topic. The study considers the realistic scenario of deploying an FTTH network first, intended to be 5G ready, but without knowing the exact future locations and fibre needs for the 5G network. During the webinar, the project leader Raf Meersman and Deployment & Operation Committee Chair Tom Bambury presented the findings that demonstrate that cost of FTTH5G, when built on top of an FTTH network with limited or no spare capacity, is 2 to 3.5 times more expensive than with sufficient spare capacity.
You can watch the workshop here.
Ofcom commits to full fibre, promoting competition, and copper switch-off
As demand for data continues to accelerate, Ofcom has set out its decisions for regulation of the fixed telecoms markets that underpin broadband, mobile and business connections, for the period from April 2021 to March 2026. Within Ofcom's new framework, millions of homes across the UK are set to be upgraded to full-fibre networks via the pathways below:
Ofcom creates conditions for networks to ramp up the rollout of full-fibre broadband nationwide;

Pricing flexibility for Openreach's fastest services; entry-level superfast prices kept flat in real terms;

More support to upgrade the UK's decades-old copper connections to faster fibre networks;

Ofcom's regulations build a business case for long-term investment and ensure consumers have affordable options.
The European Commission welcomes the €33.7 billion Connecting Europe Facility proposal
The European Commission welcomed the agreement reached by the European Parliament and the Council on the Connecting Europe Facility (CEF) proposal, worth €33.7 billion, as part of the next long-term EU budget 2021-2027.
The digital strand of the Connecting Europe Facility programme will help develop and deploy innovative, secure and sustainable cross-border digital infrastructures, to enable digital networks and services to flourish and support Europe's vision in the Digital Decade for 2030, building on the 2025 Gigabit Society goals. It will also equip major transport paths, such as road, rail, maritime routes and ports with resilient, high-speed connectivity.
France surpasses 10 million FTTH connections
France surpassed the milestone of 10 million FTTH connections in Q4 2020, and the fibre roll-out in the country has hit a new record. Throughout Q4 2020, the pace of superfast broadband subscription (according to ARCEP's criteria: maximum download speed equal to or faster than 30 Mbit/s) growth stepped up to reach an additional 1.1 million connections. The number of superfast subscriptions thus reached 14.7 million thanks to the increase in the number of FTTH subscriptions, which rose by 3.3 million throughout 2020. As a result, the total number of FTTH subscriptions has overstepped the milestone of 10 million (10.4 million as of 31 December 2020), and the technology now represents 70% of all superfast access subscriptions in France.
EU Member States agree on the Connectivity Toolbox
The EU Member States in cooperation with the European Commission agreed on the Connectivity Toolbox outlining best practices to boost the timely deployment of 5G and fibre networks. These include, among other things, the following procedures:
permit exemptions for certain civil works;

a single online portal to make all necessary information on permits, civil works and infrastructure available;

financial incentives in spectrum auctions for investments in networks;

measures that support wireless connectivity to enable the use of disruptive technologies and intelligent machinery in the manufacturing and industrial sectors.
These best practices are designed to help Member States to ensure timely and investment-friendly access to 5G spectrum for mobile operators and other users of spectrum, including for cross-border industrial applications, for example in transport, energy, healthcare, or agriculture. They are also intended to help operators reduce the cost of gigabit broadband deployment.
Spain allocates additional EUR 37 million to roll out FTTH in rural areas
The Spanish government announced plans to allocate a further EUR 36.8 million in funding to bring FTTH to underserved rural areas in 12 provinces. The new funding is an extension of the PEBA-NGA programme. The Program is co-financed by the European Regional Development Fund (ERDF) and will be implemented in Almería, Granada, Jaén, Málaga, Huesca, Teruel, Zaragoza, Balearic Islands, Santa Cruz de Tenerife, Alicante, Cáceres and Murcia.
European Commission wants all EU households to have gigabit connectivity by 2030
European Commission presented targets and vision for a successful digital transformation of Europe by 2030. Considering Gigabit connectivity as a prerequisite of rapid digital transformation, this communication sets targets for all EU households to be covered by gigabit connectivity and all populated areas to be covered by 5G. Moreover, the production of cutting-edge and sustainable semiconductors in Europe should be 20% of world production, 10K climate-neutral highly secure edge nodes should be deployed in the EU, and Europe should have its first quantum computer.
Media: Austrian operators sign pact with states & municipalities to support broadband expansion
According to Telecompaper, the three major Austrian operators, Magenta Telekom, A1 and Hutchison Drei, have signed a pact with the federal state and municipalities to expand the broadband network in Austria. The government plans to provide fixed and mobile gigabit connections nationwide by 2030. For this reason, the partners are giving support to the 'Internet Infrastructure Platform Austria 2030 - PIA 2030'. With the platform, the government wants to promote the exchange of information on the broadband expansion and synergies and continue to support existing initiatives.
PTS: 95% of all Swedish households and businesses can connect to fast broadband
The Swedish Post and Telecom Agency's (PTS) report on mobile coverage and broadband mapping 2020 shows that approx. 95% of all Swedish households and businesses had access to or the opportunity to connect to high-speed broadband networks allowing speeds of 1 Gbit/s in October 2020. This percentage demonstrates an increase of 2.8% since 2019. The highest availability of such networks is found in Stockholm, Gotland and Halland county.
However, according to the PTS, the digital divide is still present in Sweden, and some regions will be aided by the state in order to roll out speedy networks.
BEREC held a series of events and opened a number of public consultations 
On 17 March 2021, the Body of European Regulators for Electronic Communications (BEREC) held a public debriefing to present the 46th plenary meeting outcomes.  On 1 April 2021, BEREC held its annual Stakeholder Forum to exchange ideas with stakeholders on BEREC's work and plans for 2022 and discuss topics relevant to the telecommunications market.
BEREC invites the stakeholder to react to a number of public consultations & calls for input, including the BEREC Work Programme 2022. 
European Commission: women farmers drive digital transformation in rural areas
With 30% of EU farms being managed by women, these farmers are key in driving the digital transformation of rural areas, says European Commission. The video published by the institution also points out that high-speed connectivity is needed to allow the use of cutting-edge technology in both agriculture and forestry, as well for everyday management. On top of this, it enables entrepreneurship and allows remote area inhabitants to connect with the wider community.
NEXT EVENTS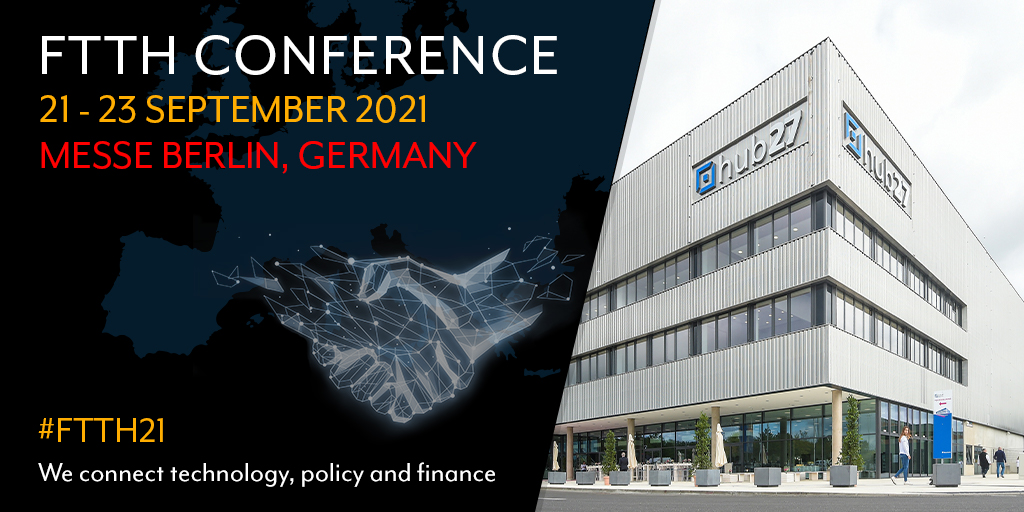 #FibreHorizon is the FTTH Council Europe's monthly selection
of digital and fibre-related news.
For more information, check our website or contact us
08.04.2021
The FTTH Council is committed to being compliant with the EU's GDPR. Take 1 minute & keep receiving our news on the fibre world and the FTTH Conference!
About Us 
The FTTH Council Europe consists of more than 150 member companies. 
The FTTH Council Europe is an industry organisation with a mission to advance ubiquitous full fibre-based connectivity to the whole of Europe.
Our vision is that fibre connectivity will transform and enhance the way we live, do business and interact, connecting everyone and everything, everywhere.
Fibre is the future-proof, climate-friendly infrastructure which is a crucial prerequisite for safeguarding Europe's global competitiveness while playing a leading global role in sustainability.
The FTTH Council Europe consists of more than 150 member companies. 
Click here to unsubscribe or to change your Subscription Preferences. 
Contact Us:
Communications & Public Affairs 
FTTH Council Europe ASBL
4 Rue de la Presse 
1000 Brussels, Belgium
You are receiving this email because you opted into the FTTH Council Europe database either by registering on the FTTH Council Europe website or through giving consent to a FTTH Council Europe representative
Copyright © 2018 FTTH Council Europe ASBL, All rights reserved.