Click here if you are having trouble viewing this message.
IN THIS ISSUE
- Latest news from our Members
 
- Telecom digest:
EU Commission

launches new study on investing in local and regional Gigabit broadband deployment

German regulator

sets new measures for long-term

migration from copper to fibre

State of

fixed broadband in Portugal

and EU

revealed by NRA

Italian operators

amend their fibre advertising following

AGCM's intervention

EU Commission to present

new Connectivity Infrastructure Act

in Autumn 2022

Belgian Competition Authority

launches formal investigation on

fibre rollout in Flanders


 
- Next events from the FTTH Council Europe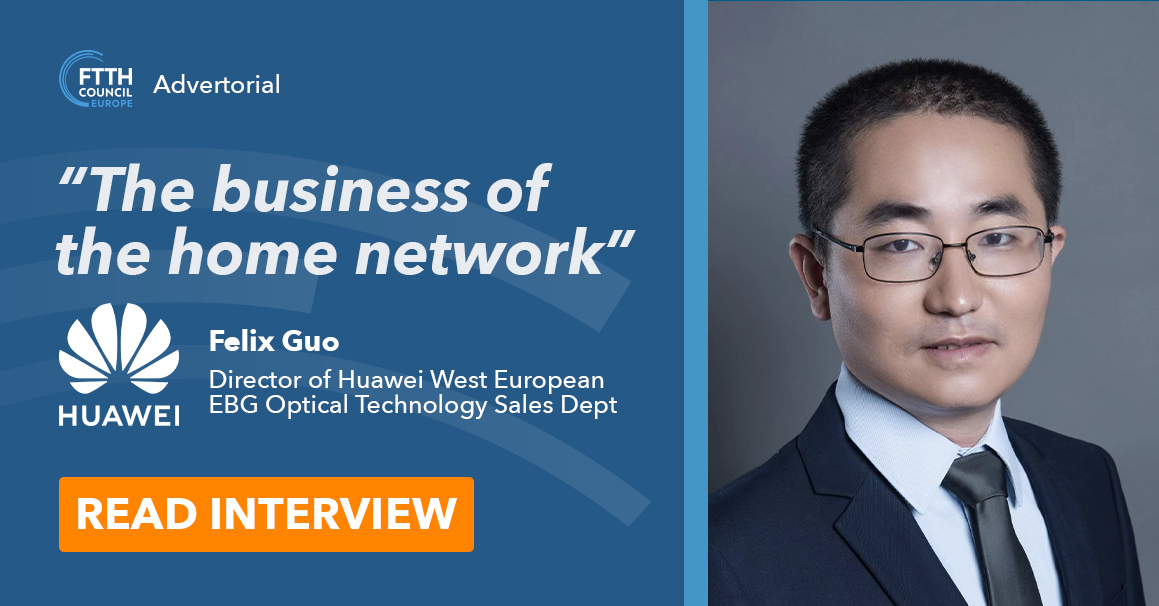 Huawei's expert Felix Guo, Director of Huawei West European EBG Optical Technology Sales Dept, addresses the main considerations of home network in this month's advertorial
NEWS FROM OUR MEMBERS
EU Commission launches new study on investing in local and regional Gigabit broadband deployment
The European Commission's 2030 policy programme "Path to the Digital Decade" spells out very clear and ambitious targets for the digital transformation of Europe, with the main goal to connect all European households with Gigabit connectivity and all populated areas with 5G networks by 2030. In support of this strategy, the Commission has recently published a study about investing in Gigabit connectivity, resulting in several suggestions on how to encourage private investment in digital infrastructures, in order to reach its connectivity targets. A series of interviews with investors, funds, banks, operators, and regulators served as foundation for the study, whose main goal was to comprehend the standards by which investors evaluate potential investments in connectivity infrastructure projects.
German regulator sets new measures for long-term migration from copper to fibre
New reduced tariffs for local loop unbundling (LLU) have been approved by Germany's Federal Network Agency (Bundesnetzagentur) for the ten-year period from July 2022 to June 2032. From 1 July, a monthly charge of €10,65 is in place for the copper line segment between the end user and the main distribution frame, down from the current rate of €11,19. The charge for the copper line segment between the end user and the street-side cable distribution box (TAL) also fell from €7,05 to €6,92 per month as of the same date. The long-term determination of the fees is intended to facilitate the expansion and migration to fibre optic networks in Germany, and serves as a planning security for network operators, providers, and investors involved in the rollout of fibre networks in the country.
State of fixed broadband in Portugal and EU revealed by NRA
In the occasion of this year's World Telecommunications and Information Society Day, Portugal's National Regulator Authority ANACOM presented a state-of-the-art of the electronic communications in the country in 2021, and how they compare at the European Union level. From a fixed network perspective, ANACOM's infographic shows that the access rate to fixed broadband services stood at 81% (vs 77% at EU level), while the usage of fixed broadband in companies reached 95% (vs EU's 94%). In global terms, 87% of Portuguese households have access to residential internet access (vs 92% at EU level), with the country being the 4th EU Member with the highest proportion of ultra-fast broadband accesses (100 Mb/s or more).
Italian operators amend their fibre advertising following AGCM's intervention
After censuring Iliad, Vodafone, Fastweb, Telecom, Planetel and Unidata for the lack of transparency in claiming speeds reaching up to 2,5 Gb/s within their fiber plans advertisement, Italy's antitrust and competition authority AGCM obtained a positive response from the six local operators, which have now agreed to amend their graphics and add more data to the offers in question. Italian watchdog's concerns were mainly targeted to the advertised fibre speed, which "cannot be reached with a single device" but rather is "divided between Wi-Fi and Ethernet ports". Also, the regulator pointed out that the 2,5 Gb/s speed could only be achieved by devices equipped with the most advanced WiFi technology. As its intervention improved the operators' informational clarity, AGCM stated that the companies will not be fined this time.
EU Commission to present new Connectivity Infrastructure Act in Autumn 2022
Back in 2020, the European Commission introduced the Connectivity Toolbox to provide EU member states with the framework they required to  quickly and successfully. As part of a revision to the 2014 Broadband Cost Reduction Directive, the European Commission is now reportedly getting ready to codify some of these regulations into European law. According to Politico's sources, the law, which is currently known as "Connectivity Infrastructure Act" and expected to be presented this Autumn, would also provide new recommendations about Very-High-Capacity Networks (VHCN) and a revision of the rules governing broadband state aid. The regulation would also include a system through which major tech giants such as Google, Meta, and Netflix, could be required to help subsidize telecom networks.
Belgian Competition Authority launches formal investigation on fibre rollout in Flanders
The development of fibre networks in the Flanders region may have resulted in competitive distortions, according to the Belgian Competition Authority (BCA), which has consequently launched a formal investigation. The Prosecutor General has decided to open the proceeding, the watchdog announced via a press statement, "on the basis of serious indications of practices capable of distorting fair competition and the efficient rollout of fibre networks in Flanders and taking into account the BCA's policy note of 12 May 2022, which identifies the telecommunications sector as a priority sector".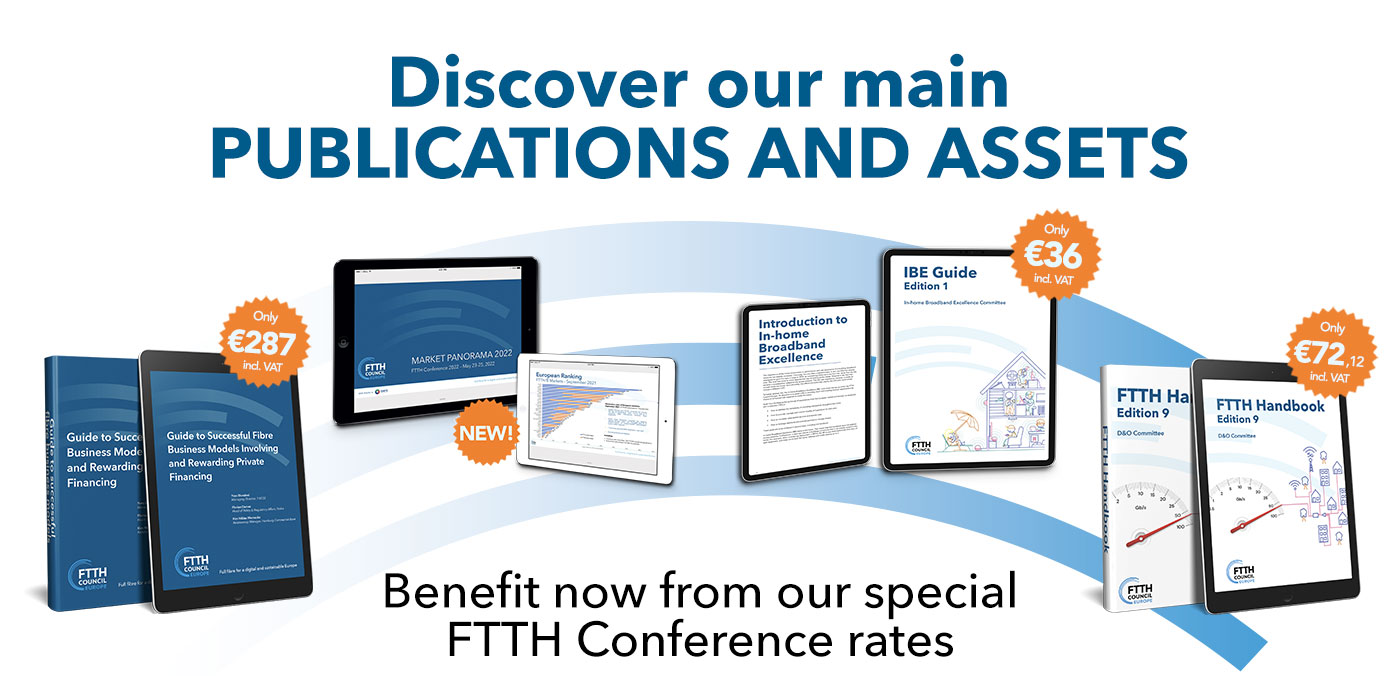 NEXT EVENTS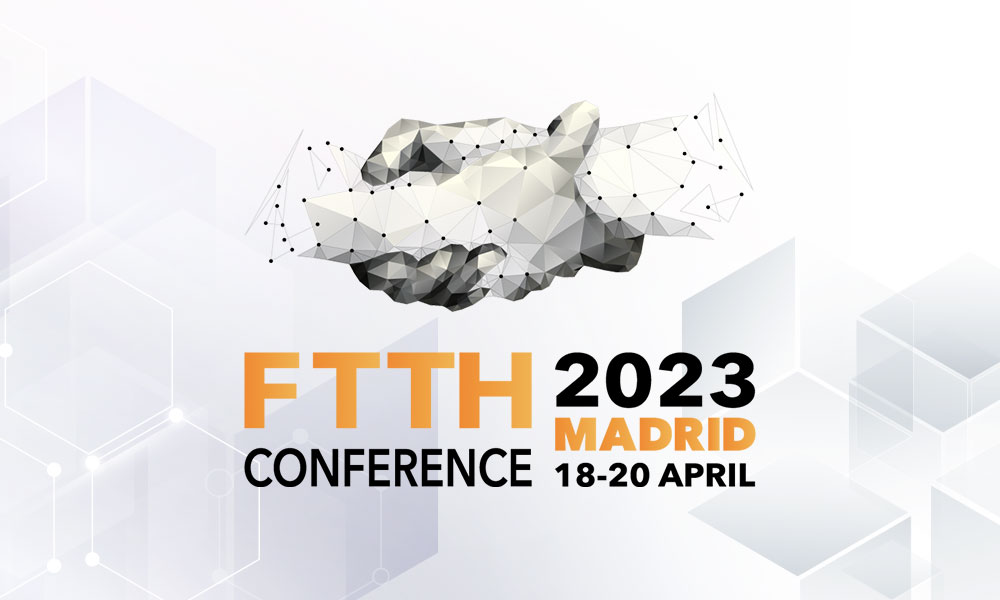 Our new FTTH Conference website is now live with a rebranded skin and updated information in view of next year's edition in Madrid.
Get relevant insights on the hottest topics in fibre from our speakers, listen to the words of our leading sponsors and learn more about the iconic venue of next year's summit, Ifema Madrid.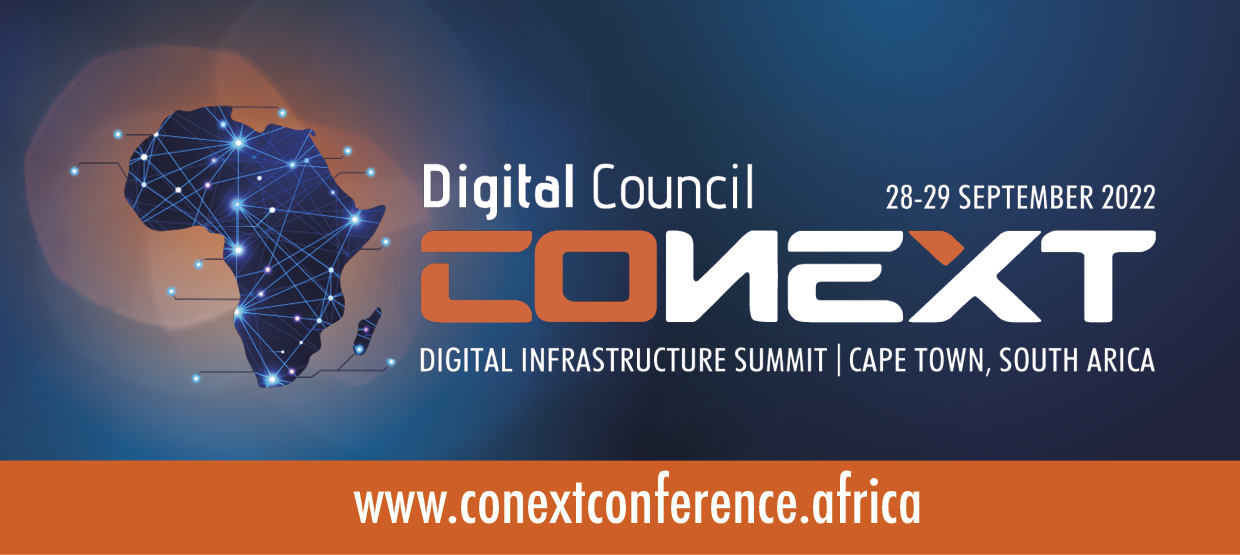 The FTTH Council Europe is a proud partner of Digital Council Africa's 2022 Conext Conference, happening in Cape Town, South Africa, on 28-29 September. Click here to learn more about the event.

#FibreHorizon is the FTTH Council Europe's monthly selection
of digital and fibre-related news.
For more information, check our website or contact us.
The FTTH Council is committed to being compliant with the EU's GDPR. Take 1 minute & keep receiving our news on the fibre world and the FTTH Conference!
About Us
 
The FTTH Council Europe is an industry organisation with a mission to advance ubiquitous full fibre-based connectivity to the whole of Europe.
Our vision is that fibre connectivity will transform and enhance the way we live, do business and interact, connecting everyone and everything, everywhere. Fibre is the future-proof, climate-friendly infrastructure which is a crucial prerequisite for safeguarding Europe's global competitiveness while playing a leading global role in sustainability.
The FTTH Council Europe consists of more than 160 member companies.
Click here to unsubscribe or to change your Subscription Preferences. 
Contact Us:
Communications & Public Affairs 
FTTH Council Europe ASBL
4 Rue de la Presse 
1000 Brussels, Belgium
You are receiving this email because you opted into the FTTH Council Europe database either by registering on the FTTH Council Europe website or through giving consent to a FTTH Council Europe representative
Copyright © 2022 FTTH Council Europe ASBL, All rights reserved.